Fun activities for kids are important to keep them busy with something that is also entertaining.So, I am sure all mothers must be sick and tired by now of hearing this phrase 'Mama, we are getting bored,' at least 3 to 4 times during a day, comes summer vacation and kids start their usual complaining about getting bored all the time.
It really gets difficult for mothers to keep children busy with something which is healthy as well as fun at the same time, so keeping this thing in mind I have compiled some fun activities for children,  so that you (mothers) may also get some time off from your hectic routines and you enjoy your children's summer vacations as much as they do instead of panicking at the thought of children staying at home all the time in summers.
Also check out: My journey from being an Angry mom to Organized Mom
Make Learning Fun
This is another great website that provides fun activities for children. It has very interesting and engaging games that can help kids learn mathematical concepts very well. The most interesting thing that I came across on this website is that it caters to all the age groups, all the way from 3 years to 14 years. Below are few links to their Maths and English activities that I am providing you for your convenience.
Counting Ordering Sequencing Numbers Place Value, Odd and Even Addition and Subtraction Times Tables Multiplication and Division Money Shapes Measures Data Handling Problem Solving
Letters and Sounds Punctuation Words and Spelling Learning to Read Writing Stories Speaking and Listening
Let's learn Numbers
This is again another great website if you want your kids to do pure math practice. It has all the activities provided from Pre-K till Twelfth grade. In addition to Math, the website also offers some great exercises of language arts, Science and Social Studies. One drawback, though, it has a fixed practice limit per day, but if you really like the website and you can afford, then you can definitely apply for their membership.
Printable worksheets and Activities
This is an amazing website providing thousands of printable worksheets and activities for teachers, parents, tutors and homeschooling families. It's especially helpful for those mothers who are homeschooling their children or mothers who don't believe in sending their children to tuitions and want to teach their children themselves.
They have some excellent comprehension, grammar and maths worksheets. Another great feature about this site is, it has got a worksheet generator tool through which you can create your own printable PDF worksheets. They also have puzzle generators for making words scramble and word search puzzle. I would highly recommend this website.
DIY

art and Craft for kids
Bored? can't go out in heat? Couldn't get your child enrolled in an art and craft course? worry no more as this tutorial will definitely help your child learn 5 super cool crafts to do when he/she is bored and has nothing to do at home. if you want to learn more, you can also subscribe to them, and can also search for similar videos on Youtube.
Educational Puzzles,

Legos

& Blocks
There are many educational puzzles, games legos and blocks can that not only boost a child's IQ level but can also strengthen their spatial skills. Some of my recommendations are early learner's 3 letter words, synonym and antonym and FUN MATHS puzzles that your kids will definitely enjoy a lot.
Read, read and read
Read to your children as much as you can. Even if at first they are not interested in reading themselves, they will eventually do once they start enjoying the stories you read to them. Choose interesting stories to read to your children.
My recommendations are Roal Dahl's Charlie and the Chocolate Factory, The missing golden ticket and other splendiferous secrets, Quranic stories for little hearts, Enid Blyton's Five on a treasure island, The famous five, Peronel's magic polish and The magic snowbird.
Get Them an Indoor Pool
Summers already drain so much energy from everyone that it is entirely difficult to take kids far for beach and swimming. With an indoor pool in your backyard, your kids can have fun time in the water without draining a lot of energy from you and your spouse. With an indoor pool, your kids can enjoy a small party with their friends, while you can enjoy drinks and good time with your friends or other parents. As much as learning activities are important, it is equally important for the kids to have some time just enjoy and refreshing themselves with pool and a glass of chilled lemonade.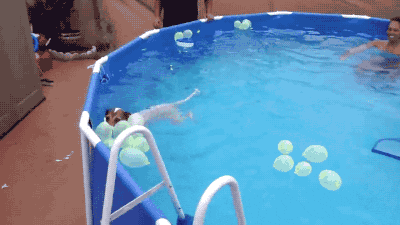 I hope you liked reading this post about the fun activities for children as much as I enjoyed writing about them if there's anything else that you need help with, kindly leave a comment in a comment section below.